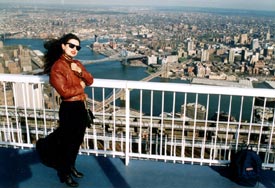 Irina was born in Russia. Beginning when she was six years old, she studied classical piano.
She gratuated from the college of Art with the Red Diploma in Classical Piano. And then attended Moscow Pedagogical University. Her diploma with the specialization of teacher of music, including voice, piano and choral groups.
Irina performs professionaly, including a Russian national tours and international performances.She sang in Spain (La Coruna, Madrid) and Germany with an art-rock group "Theatre of Pilgrims". She sang in the Magazine Theater in the West Berlin and performed with the American soul singer Robin Hemingway. Irina performed in music clubs in Houston, New York, Baltimore in the USA.
She participated in the international documentaries about Russian musicians:
Daniel - Television Company (Netherlands)
Captured Life Productions (Americano-Australian TV) "Red Express"